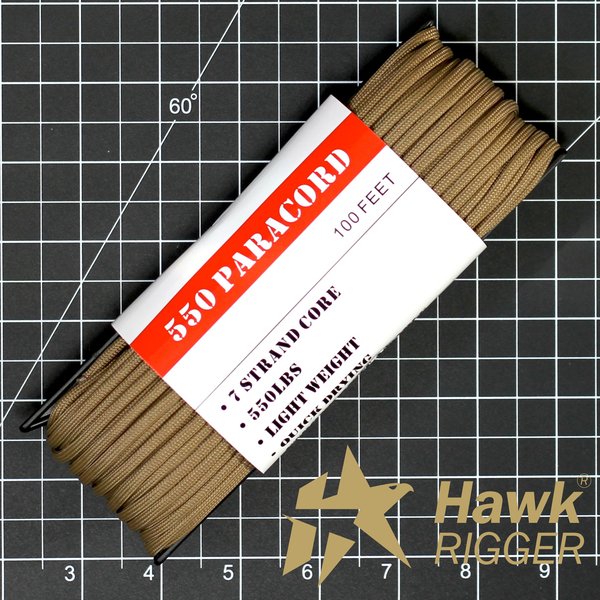 550 Paracord
550 PARACORD 7 INNER STRANDS TACTICAL TYPE III 100ft ON WINDER SPOOL
Specifications:
7 STRAND CORE
550LBS
Characteristics:
FULL BODIED FIRM CORD
STRONG & DURABLE
LIGHT WEIGHT
QUICK DRYING
WILL NOT ROT OR ATTRACT MILDEW
Package Includes:
100FT TYPE III PARACORD
PARACORD WINDER SPOOL
What is Paracord?
Parachute cord (also paracord or 550 cord) is a lightweight rope originally used in the suspension lines of US parachutes during World War II. Once in the field, paratroopers found this cord useful for many other tasks. It is now used as a general purpose utility cord by both military personnel and civilians. This versatile cord was even used by astronauts during STS-82, the eighty-second Space Shuttle mission, to repair the Hubble Space Telescope.
U.S. Military has no overall diameter requirements in its specifications, in the field 550 cord typically measures 5/32 inches [4mm] in dameter.
Type:
Type III is a type commonly found in use and normally related to a breaking strength of 550 pounds. The U.S. Military specification for paracord outlines a number of parameters to which the final product must conform. Although it contains specific denier figures for the sheath and inner yards there are no overall diameter requirements for the cord itself.
Uses:
Very useful for all kinds of lashing needs, creating pull cords, bracelets, and much more. Ends can be easily sealed with flame heat.